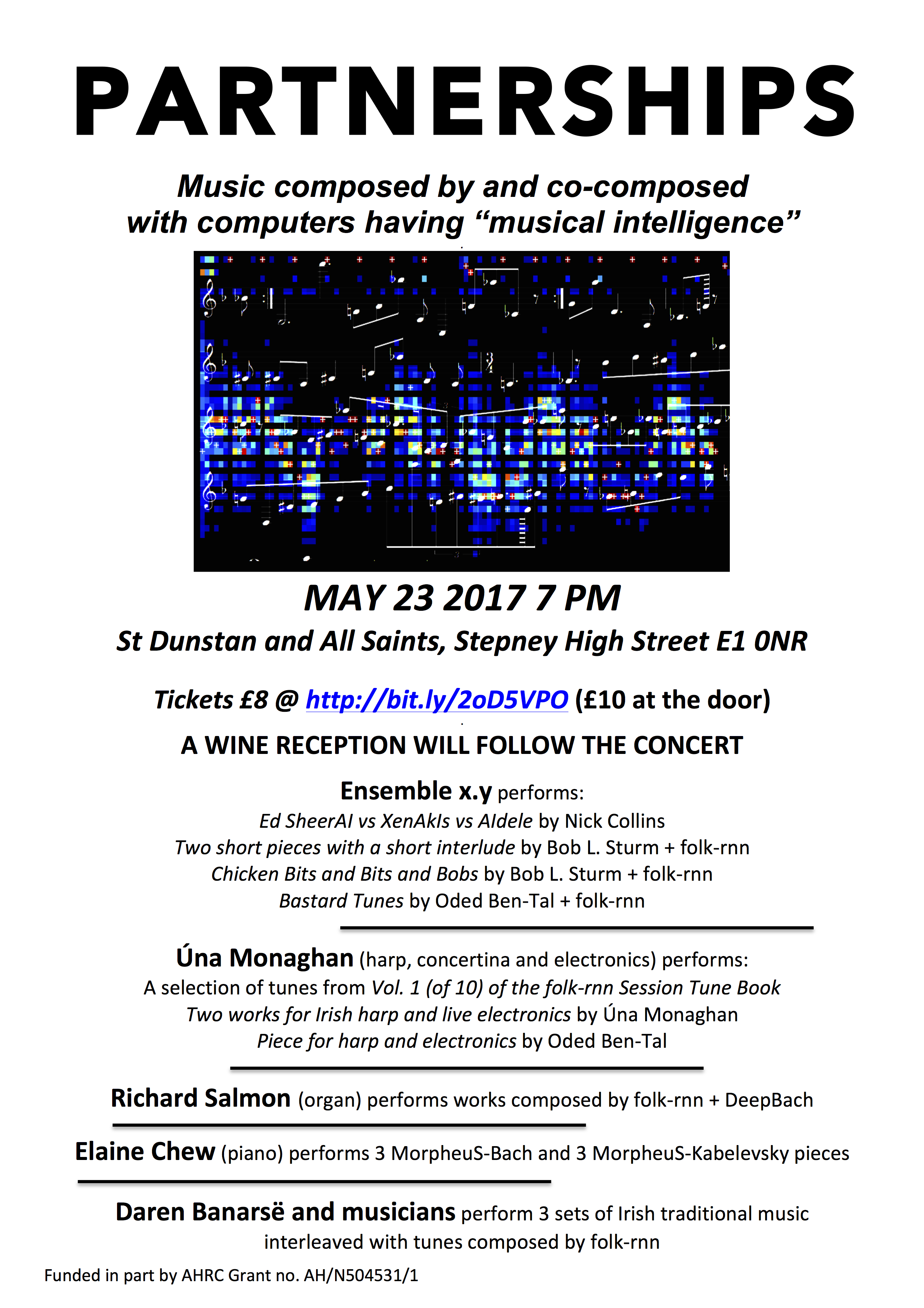 Music composed by and co-composed with computers having "musical intelligence".
St. Dunstan and All Saints, Stepney High Street, London, UK.
This unique concert will feature works created with computers as creative partners drawing on a uniquely human tradition: instrumental folk music. We aren't so interested in whether a computer can compose a piece of music as well as a human, but instead how we composers, musicians and engineers can use artificial intelligence to explore creative domains we hadn't thought of before. This follows on from recent sensational stories of artificial intelligence making both remarkable achievements – a computer beating humans at Jeopardy! – and unintended consequences – a chatbot mimicking racist tropes. We are now living in an age, for better or worse, when artificial intelligence is seamlessly integrated into the daily life of many. It is easy to feel surrounded and threatened, but at the same time empowered by these new tools. Find more information in our recent article at The Conversation: 'Machine folk' music composed by AI shows technology's creative side.
Our concert is centred around a computer program we have trained with over 23,000 "Celtic" tunes -- typically played in communities and festivals around Ireland, France and the UK. We will showcase works involving composers and musicians co-creating music with our program, drawing upon the features it has learned from this tradition, and combining it with human imagination. A trio of traditional Irish musicians led by Daren Banarsë will play three sets of computer-generated "Celtic" tunes. Ensemble x.y will perform a work by Oded Ben-Tal, which is a 21st century homage to folk-song arrangements from composers such as Brahms, Britten and Berio. They will also perform a work by Bob L. Sturm created from material the computer program has self-titled "Chicken". You will hear pieces performed on the fine organ of St Dunstan generated by two computer programs co-creating music together: our system generates a melody and another system harmonises it in the style of Bach chorale. Another work by Nick Collins at Durham blends computer models of three different musicians and composers: Iannis Xenakis, Ed Sheeran, and Adele. Our concert will provide an exciting glimpse into how new musical opportunities are enabled by partnerships: between musicians from different traditions; between scientists and artists; and last, but not least, between humans and computers.
Other Featured performers:
Úna Monaghan: a composer and researcher currently based at Cambridge, will perform her works for Irish harp and live electronics, combining elements of Irish traditional music with computer sound, controlled via motion sensor and pitch detection.
Elaine Chew: a musician and Professor at the Centre for Digital Music, will perform a series of solo piano works "re-composed" by MorpheuS.